Suggestions and examples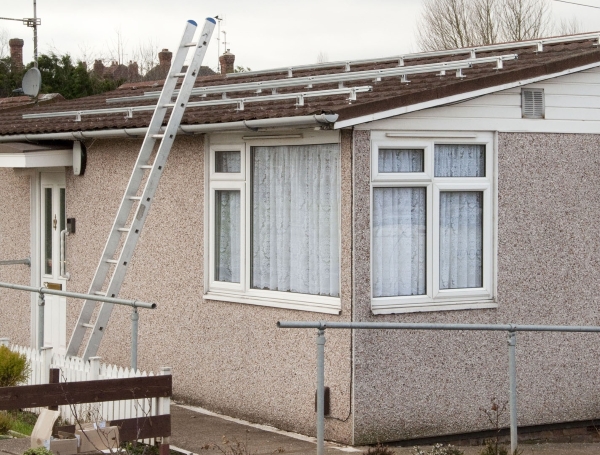 Solar PV panels being fitted on to an older person's bungalow © Derby Homes
Support access to existing policy measures for energy vulnerable and fuel poor households.  Local authorities and their partners can help to reduce the triple injustice for their local residents by facilitating access to opportunities available under current policies, for example energy efficiency measures and maximisation of state benefits. With their local knowledge they can help make sure the right people are targeted. The fuel poverty section (sections 4 and 5) contains more detailed information about policies which can help the fuel poor, and many of them are also relevant to those that may not be defined as fuel poor but still experience energy vulnerability and injustice.
Work with housing providers to support improved housing schemes. Work with social landlords and private sector landlords to support improvement of existing housing and use the planning system to ensure that new housing has high energy efficiency standards.
Recognise the contribution of the voluntary and community sectors and the importance of working with them on community energy. Local authorities can start local energy projects with their partners, or support existing community and voluntary groups. Social housing providers are in a good position to work with the community through their tenants. In a survey by DECC, 42% of people said that they would be motivated to get involved in community energy if they could save money on their energy bill1. Community energy projects can be categorised into energy efficiency (installation of energy efficiency measures and promotion of behaviour change), energy management, energy generation and energy purchase projects2, although it is common for groups to be working on more than one of these themes at once. It is also common for groups to be working on sustainability more widely, including adaptation to climate change.
Work with the community and voluntary sectors to support community energy efficiency projects which can engage local residents to think more about their energy consumption, provide information, help them to identify how they can save energy, and provide access to funding for energy efficiency measures. They may also provide other related advice in areas such as state benefits, money management, and health. Below are some case studies of community energy efficiency projects.
Urchfont Climate Friendly Group3: Urchfont is a rural community in Wiltshire. Urchfont Climate Friendly Group has carried out several projects promoting a more sustainable lifestyle. One of these projects involved the provision of energy surveys to 18 households, providing tailored advice on saving energy in the home.
Warming Barton Pioneer Places4: Barton, a suburb of Oxford, is among the most deprived 10% of neighbourhoods in the UK with a high proportion of poorly insulated and 'hard to treat' properties. Oxford City Council worked with local partner the Low Carbon Hub and funding from DECC to offer free energy assessments, which were taken up by 119 households. Fully or partly funded measures were also offered, with households saving an average of £450 on their bills. Connections with existing local groups and the Council have been key to the success of the project. Following on from this project, the Low Carbon Hub teamed up with an ECO provider to install solid wall insulation on 27 homes in the area. The project has been extended into a larger 'Warming Oxford' programme which will be available to other deprived areas in the city.
Manchester Carbon Co-op: This is a group of residents which was established in 2008 to carry out energy efficiency changes in their own homes and communities. The group is run as a co-operative and community benefit society. Projects run by the group include the offering of a 'Home Energy Planner' online assessment tool to profile current usage and make decisions on energy efficiency measures and a Champions programme to try and recruit other local people to the retrofit programme.
Work with the community and voluntary sectors to support the development of smart community energy management projects. This is a new type of community energy project which is being facilitated by new technology such as smart meters and remote monitoring.  This focuses on changing the time of energy demand to fit better with times of high renewable energy generation or to reduce the impact of peak demand on infrastructure. Below are some case studies of smart community energy management.
The Less is More project is a pilot project which aims to help communities reduce their electricity use, especially at peak times. The project is being run in ten communities, by Western Power Distribution (WPD), one of the electricity distribution networks, in partnership with several local energy charities. Reducing peak electricity demand reduces maintenance costs of substations and so the pilot is looking at whether it is more cost effective to offer communities an incentive to reduce their peak demand than it is to upgrade substations to accommodate increasing demand. The communities can win up to £5,000 for reducing electricity demand.
Ashton Hayes, a village in Cheshire which has been working for several years to reduce domestic energy demand in the Ashton Hayes Going Carbon Neutral project, has teamed up with the local electricity network operator to monitor electricity demand and the contribution of community renewable generation. This information has helped to engage the community with their energy use to a greater degree5.
Work with the community and voluntary sectors to support the development of community energy generation projects. These can be more complicated than energy efficiency projects, but for more experienced groups they provide a focus and a way to reach out to other parts of the community. Repowering London is an example of a community energy generation project.
Lambeth Council worked with Repowering London, which is a not-for-profit organisation that co-produces community-owned renewable energy projects with local authorities and community groups. Its solar project on the Roupell Park Estate in Brixton6 was funded via a community share offer. The usual minimum shareholding is £250 but estate residents had access to a lower minimum shareholding of £50, which gave more residents the opportunity to be active participants in the project. Some of the energy generated is used on-site, with the rest sold back to the grid. The project has also provided work experience for 15 local young people.
The DECC funded Low Carbon Communities Challenge (LCCC) funded community-scale approaches to the delivery of low carbon technologies and engagement activities, both those led by community groups and those led by existing agencies such as local authorities. The evaluation report gives useful insights into how these worked.
Bath and West Community Energy was established in 2010 to initiate projects that offer local people a say in how their energy is generated and used, and that help to retain the economic value of this at a local level. Bath and West Community Energy have been involved in the installation of a number of solar PV arrays on schools and community buildings as well as ground mounted solar arrays and hydro projects. Projects are financed through combinations of member shares, bank loans and financial partnerships. A share of the profits are put into a Community Fund to finance more local, low carbon projects.
Plymouth Energy Community (PEC) is a community benefit society which aims to transform the way that residents of Plymouth buy, use and generate power. As part of this they are responsible for the installation of a 4.1MW solar array, the biggest in Plymouth. Energy from the array will be sold to the grid and the profits used to fund further activities of PEC.
Owned as a community co-operative, Exeter Community Energy (ECOE) aim to take ownership of renewable energy projects and to share the financial benefits amongst shareholders. First established in 2013 ECOE have so far installed four rooftop solar installations. 
Be supportive of community groups that are actively promoting sustainable living and increasing resilience (such as Transition Towns), whether they are in affluent or disadvantaged areas.  Disadvantaged groups tend to require more support from the public and third sectors, but energy projects started in richer areas can spread to include other communities. In addition, if households in higher income decile groups reduce their emissions, there will be lower emissions overall, which would benefit the climate change mitigation agenda. Having more groups working on community energy means more learning and a stronger voluntary and community sector overall.
Support other collective responses, such as collective switching schemes. Collective switching schemes are being offered by local authorities or NGOs, and involve residents banding together to negotiate a better deal with their gas and electricity suppliers, with the lead organisation acting as an intermediary agent (this could be a local authority or NGO, although schemes have also been run by consumer groups). By negotiating with the big energy companies through a trusted third party, communities can harness their collective buying power to secure the best deal. Local authorities can use collective switching schemes as part of a broader strategy to engage local residents. Below are some case studies of collective switching schemes.
Peterborough City Council currently runs a scheme called Ready to Switch.
Cornwall Council in partnership with the Eden Project developed Cornwall Together, a collective purchasing group that has so far completed two rounds of bulk buying.  The group directed 10% of the switching commission from collective switching to fund fuel poverty work7.
Bristol's Switch and Save scheme ran in 2013 and secured deals from six energy suppliers, resulting in 1,242 households switching, each saving an average £104.81 on annual bills, with ten households saving over £500 each, and 319 households switching to greener tariffs.
Plymouth Energy Community runs a switching service in combination with energy helpline. 
Make sure that participants in collective switching schemes really are getting a better deal. Collective switching schemes do not always offer the best deal on the market, particularly for prepayment customers. The offers in collective switching schemes have not generally been attractive to prepayment meter users. Across 27 schemes funded by DECC's Cheaper Energy Together programme, only 3% of switches were to prepayment meter tariffs8. The Big Switch by Which? in 2012 did not include prepayment customers9, and the overall winning tariff was more expensive than the cheapest available on the market10. Consumers may be able to get an equally good deal by using a comparison site, but the benefit of switching schemes is that their collective nature encourages people to get involved who might otherwise not get round to looking for a better deal or who might be worried about looking for better a deal by themselves. Critics have pointed out that if energy suppliers offer low tariffs to new customers under collective switching schemes, they could be funding these by increasing prices for existing 'sticky' customers (those unlikely to switch)11.
There are also opportunities for local authorities to change the configuration of energy supply locally by becoming energy suppliers themselves. Some urban local authorities are taking forward district heating projects. This is usually motivated both by the desire to build infrastructure for a low carbon future, and to reduce energy bills (or at least maintain stability in energy bills over the long term) for local businesses and people.  A local authority looking to install district heating as a way of reducing carbon emissions can also incorporate this scheme into their fuel poverty strategy to ensure vulnerable households are prioritised. In particular, large centrally located social housing blocks in need of updating are good candidates for being included in a district heating scheme. The costs must be carefully controlled to make sure that district heating does not end up costing local homes and businesses more than the alternative.  The Homes and Communities Agency has produced a Good Practice guide based on 13 case studies of district heating projects implemented by local councils. Below are some case studies on district heating.
As part of the Birmingham Energy Savers Partnership12 between Birmingham City Council and Carillion Energy Services, three high-rise blocks of flats in Newton have had EcoPod District Heating Systems installed. The EcoPod is a specialised energy centre designed to work from the roof of a high rise building. Two hundred flats in areas suffering from high levels of fuel poverty have been connected to the systems.
Aberdeen Heat and Power is a non-profit company set up by Aberdeen City Council.  A combined heat and power (CHP) district heating system was identified by Aberdeen City Council as the best way to deliver energy to the Hazelhead community. The Hazelhead Estate was originally council housing, although many homes are now privately owned. The system services 198 dwellings with heat, and a large school with heat and electricity. The project has reduced carbon emissions and has helped to tackle fuel poverty by providing low cost heating to council tenants13.
In London, the Bunhill Heat and Power network is operated by Islington council and provides energy to over 700 homes.  The energy centre uses a CHP (Combined Heat and Power) system which uses the waste heat created producing electricity to heat the homes. In the second phase of the project additional homes will be connected and the pipe network will be extended to tap waste heat from the London underground network. The electricity produced by the CHP is sold to the national grid, meaning that fuel bills are subsidised, helping to tackle fuel poverty.
​
References
DECC (2014) Community Energy Strategy: Full Report, p.3 
DECC (2014) Community Energy Strategy: Full Report, p.20 
DECC (2014) Community Energy Strategy: Full Report, p.45. 
DECC (2014) Community Energy Strategy: Full Report, p.81. 
DECC (2014) Community Energy Strategy: Full Report, p.87.
DECC (2014) Community Energy Strategy: Full Report, p.54.
LGA (2013) Tackling fuel poverty through local leadership. 
DECC (2013), Helping Customers Switch: Collective Switching and Beyond, p.33 
The Telegraph,11th May 2012, Which? Big Switch energy deal 'disappointing'
Carillion, Case Study: Birmingham Energy Savers (BES)
Aberdeen City Council, District heating